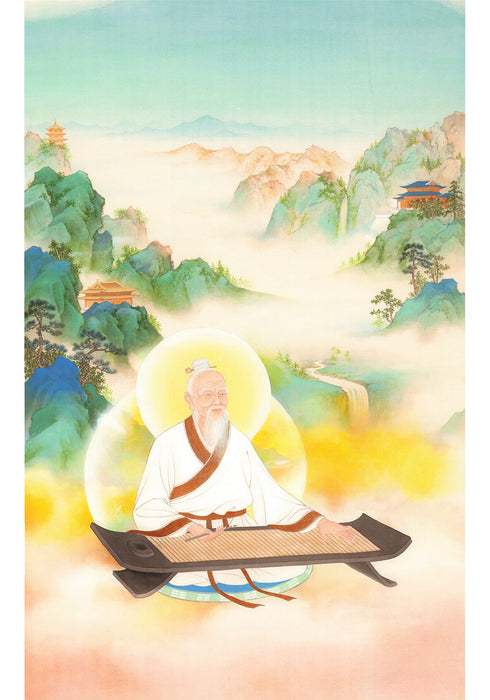 "Lao Tzu's Sutras" Chinese Painting God Statue
Original price
$108.00
-
Original price
$398.00
Geographic printing, printed on German rice paper.
About the artist : Xiuyitang, a traditional fine brushwork painter, has won the essence of Song and Yuan paintings. The works cover landscapes, figures, flowers and birds, and are known for their traditional fine brushwork style. The works are quiet, peaceful, fresh and elegant, and are favored by collectors.
About the work: This picture is created by Lao Tzu's "Tao Te Ching", which shows the realm of the unity of man and nature at the moment of thinking. In terms of composition, this painting is a simultaneous display of two spaces. Laozi is in the real space, writing the "Tao Te Ching" with a pen, but his thoughts are connected with a higher level of spiritual world, presenting a holy world of heaven, a state of "unity of man and nature" . The color follows the classical style, and strengthens the contrast between the main color and the environment. At the same time, golden yellow is used to show the feeling of energy flow, which strengthens Lao Tzu's sense of holiness. This is a new attempt, which has more realistic three-dimensional effect than ancient paintings.
Brush and ink form: Silk version with heavy-colored statues of gods
Creation time: 2022
The Print

Gallery quality Giclée art print

German made rice paper
Natural white with a traditional rice paper texture
Japan made Archival inks for vivid colour and sharp detail
Available in multiple sizes 
Can be purchased framed or unframed
Mounting and Framing

High-quality art deserves high quality mounting and framing. We offer a premium quality bespoke mountind and framing service that is more affordable and convenient than using your local picture framer. Our team of expert framers uses top-tier gallery materials to frame your art print to perfection. You'll receive a masterfully made piece with long-lasting and stylish sent right to your place.

Solid Wood Framed

Hardwood frames in multiple stylish colour options
High-transparency plexiglass to safeguard the artwork against dust and falls
Double-layer mat enhances the artwork's depth, accentuating its overall appearance
Framing only available within USA
Artwork arrives ready to hang


Scroll Mounting
Scrolls have a long history and represent traditional elegance. They are easy to ship and convenient to carry.

Hand-made in Taiwan by experienced Taiwanese mounting artisans.
The artisan selects the appropriate silk color based on the characteristics of the painting.
Crafting a hanging scroll is a detailed endeavor, with a manufacturing time of four weeks.
Shipping and Delivery Time

Art prints: deliver within 7 business days. Worldwide shipping available.
Scroll roll mounted arts: deliver within 30 days. Worldwide shipping available.
Solid wood framed arts: deliver within 10 business days. Shipping within the U.S.

Should you require rush processing, kindly reach out to our customer service team.